Healthy Competition: Marathon Monday
Dan Bolton
04/16/2012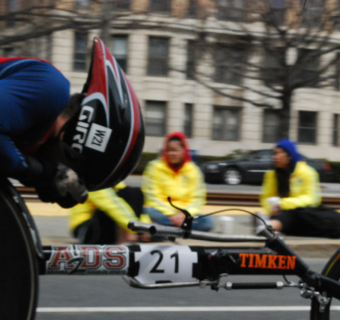 Forget the Red Sox, forget the Bruins, forget the Patriots, (we'll keep the Celtics out of this, since they have been competitive beyond their years the second half of the season) in my mind Marathon Monday  is the most competitive day in the city of Boston. Of the 27,000 total entrants in the Boston Marathon not only do you have lifelong runners who have trained every day for years to compete with the elite class of runners through the rugged 26.2 mile route, but you have thousands of amateur runners who've been training for the past few months to be able to achieve the feat of just finishing a marathon. Closest to my heart is the number wheelchair entrants that compete with as much or more intensity as the able bodied runners in this race every year. The fierce competitiveness of these racers bring out the oxymoronic nature of the word disability definitively, anyone who has been privileged enough to watch their strength and grace in action cannot argue that they're anything more than differently abled. 
The men and women in the Wheelchair Division have made it clear that there is no excuse long lasting enough to prevent us from making significant change in our life, taking those chances we've dreamed of taking but have never dared, or doing something profound with the time we have here. The number of inspiring stories and examples of healthy competition that the Boston marathon have to offer are endless. 
Let me name a few here:
1) Ernst van Dyk was born with congenital absence of both legs. Until today van Dyk held the Boston Marathon course record (which was also the World Record), and won the Boston Marathons nine times between 2001 and 2010. 
Despite holding the fastest time for ALL wheelchair racers competing in any marathon in the world, Ernst van Dyk is not resting on his laurels, nor complacent with being the best. He says, even now 8 years after setting the record, at the ripe age of 39 likely not in as good shape as he once was, STILL strives to beat his seemingly unbeatable record! In an interview before this year's race van Dyk said "To me the fact that my Boston record still stands means the world. But before I retire, I would like to break it oston.conce more.''
2) van Dyk also predicted that one of the racers from last year had the potential to break his record, and thus it seems Ernst's prediction came true as Josh Cassidy set the new course and World Record today 
http://boston.cbslocal.com/2012/04/16/josh-cassidy-sets-world-record-in-boston-marathon-wheelchair-race/
http://boston.cbslocal.com/video/6963759-josh-cassidy-after-winning-mens-wheelchair/
Other inspiring stories from Marathon Mondays Past and Present:
3) Father and Son team, Team Hoyt (read more at www.teamhoyt.com)
Rick was born in 1962 to Dick and Judy Hoyt. As a result of oxygen deprivation to Rick's brain at the time of his birth, Rick was diagnosed as a spastic quadriplegic with cerebral palsy. Due to the lack of knowledge about disability at the time Dick and Judy were advised to institutionalize Rick because there was no chance of him recovering, and little hope for Rick to live a "normal" life. After participating in their first race of 5 miles, Rick told his father, "Dad, when I'm running, it feels like I'm not handicapped."
This led to a legacy of now over 1,000 races completed, and they run in the Boston Marathon every year, and they are a huge inspiration for people to overcome adversity and thrive despite handicap for anyone who is lucky enough to know this story. 
Rick was once asked, if he could give his father one thing, what would it be? Rick responded, "The thing I'd most like is for my dad to sit in the chair and I would push him for once."
4) Katie Lynch goes 26.2 feet (read more about Katie and the races created that commemorate Katie's life and message http://www.katiesraces.com/about_katie.php)
Katie was born with a unique form of dwarfism. Known to face her challenges head-on, with a smile and a sense of humor, she had a personal mantra "Parva Sed Potens," Latin for "small but powerful". 
When asked by a television reporter why she had chosen to devote herself to this monumental challenge of her own 26.2 foot marathon, Katie responded, "Because every human being is worth it." 
Despite her many physical disabilities, she graduated summa cum laude from Regis College (Weston, MA), worked at Children's Hospital Boston in the Center for Families, and became a sought-after motivational speaker.
Katie passed away on October 24, 2002 but her passion to take part in life and serve others lives on in the work she began.
What inspiring stories of overcoming and competing with oneself in the face of life's challenges do you have?
Credits:
Photo © Dan Bolton 2010
Ernst Van Dyk record still a marvel
You are reading Dan Bolton's blog on www.danbolton.com
Email Dan Bolton, LMHC at: danboltonlmhc@me.com